At the beginning of the 1990s, the management of Cockerill Sambre began to reflect on the fundamental problems raised by their mills in the Charleroi basin.
The modernization of the coking plant, sinter belt 1 and blast furnace 5 in Marchienne, which was too small and badly positioned, no longer seemed to make sense.
It was therefore decided to replace the production capacity of blast furnace 5 (o.7 million t/y) with a new electric arc furnace at Marcinelle.
At the same time the closure of long products production, as foreseen in the Gandois plan of 1983, was to be implemented. Therefore, the 6-strand billet continuous casting line CC1 was to be closed down and replaced by a 1-strand slab line,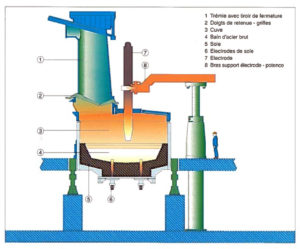 CC3, to be supplied by the new electric arc furnace.
In order to take advantage of attractive electricity rates, the new furnace was to be operated for only 5,000 hours a year, exclusively at night and on weekends, and produce about 650,000 t/y.
Cockerill-Sambre then decided to build a direct current furnace with scrap preheating. The furnace had a hearth diameter of 7.1 m and a tapping weight of 140 t.
Up to 40% of liquid pig iron could be charged via a fixed channel.
It was manufactured by Paul Wurth from Luxembourg.
The first tapping took place on 5.3.1996 and the official inauguration was held in the presence of Jean Gandois in September of the same year.
Unfortunately, this investment was not very sustainable, the electric steel plant in Marcinelle was closed down again in July 2003 and then transferred to the Laminados Zaragoza steelworks (MEGASA by now) in Spain. There the furnace resumed operation i
n April 2007 after being overhauled by Siemens-VAI.
Thanks for the support to the Bois de Cazier Archive, Charleroi.