Cockerill's construction of a new melt shop in Réhon, France in 1978 was the last major investment into the dying steel basin of Longwy.

The two O.B.M. converters (Oxygen Bodenblasen Maxhütte) were installed in the relocated halls of the former Thomas steelworks in Ougree, Belgium, closed down in 1975.
Between June and October 1979 Cockerill now operated a real converter zoo in Réhon.
Consisting of:
Two new 80 t O.B.M converters.
Two old 26 t former Thomas converters which were converted to O.B.M. in 1973.
Three 23 t Thomas converters from 1953
and a 36 t O.L.P. (Oxygen Lance Poudre) converter from 1963.
There was also an electric steel plant.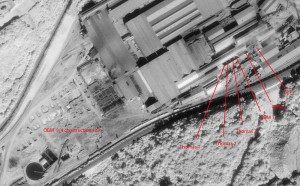 Since the LD process, which was successfully used worldwide, could not be applied due to the high-phosphor domestic ores, numerous new steel production processes were introduced in Lorraine.
None of them was very sustainable.
The Thomas converters were shut down in October 1979, the old O.B.M. converters and the O.L.P. steelworks one year later.
On 30.7.1987, after only 8 years of operation, the new O.B.M. steel plant, now owned by USINOR, was shut down too. In 1980 a third converter had been added.