was built between 1962 and 1965 by the Tunisian government on the Mediterranean coast near Bizerta.
To be able to build the plant as compact and inexpensive as possible, rail transport within the factory was to be avoided, the plant also had no external rail connection.
This was probably a worldwide unique concept for an integrated steel mill.
With a capacity of only 70,000 t/y, the plant should be able to cover the entire demand for wire and rod in Tunisia.
An international consortium carried out the plant construction.
The blast furnaces and sinter plant were supplied by Ashmore, Benson Pease & Co. from the UK, the meltshop by Ateliers et Forges de la Loire from France and the rolling mill was built by Morgardshammers from Sweden.
In 1965 the plant consisted of a single strand sinter plant with a capacity of 500 t/d, a blast furnace with a hearth diameter of 4.0 metres and a daily production of 300 tonnes.
The BOF plant was equipped with two 12-ton LD-converters, in my opinion the smallest commercially used units of this type worldwide.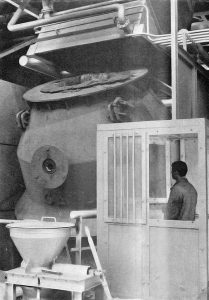 Ore was mainly sourced from Tunisia and in part from overseas, coke came from Germany and the Netherlands.
The rolling mill consisted of a 10-stand light sections unit and a downstream 8-stand wire and rod mill.
In 1977s an electric arc furnace was installed in Elfouladh to increase the capacity of the mill to 100.000 t/y. 70 percent of the consumed iron ore came from Tunisia's only iron ore mine 200 km southwest of Elfouladh.
The blast furnace was shut down in summer 2003 and in 2007 a second EAF was started up.