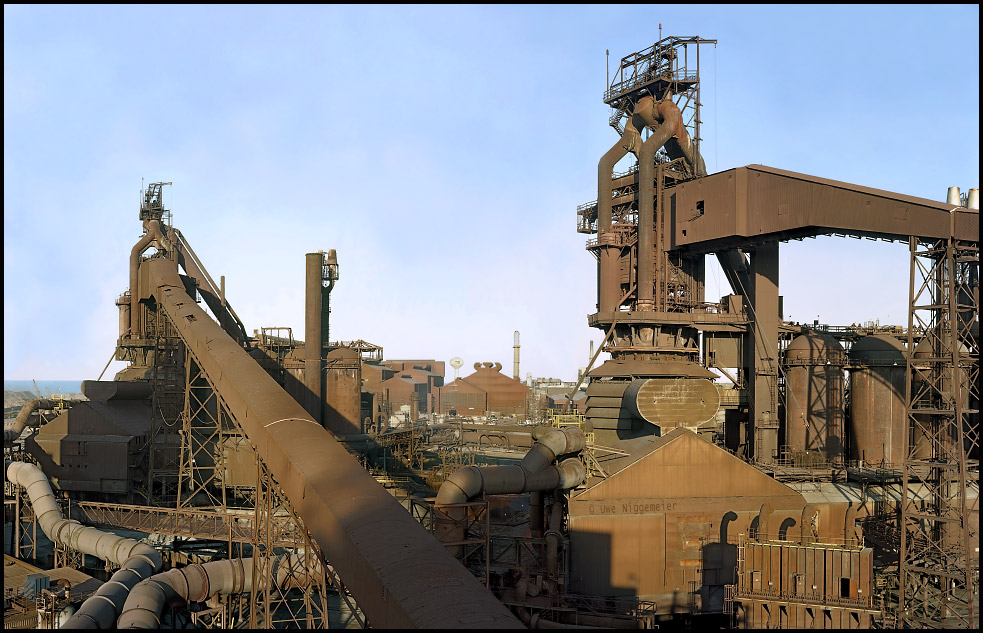 50 years ago the Bethlehem Steel Company from Pennsylvania started building a new, state of the art, integrated mill on the banks of the Lake Michigan. 3000 acres of land, neighbouring US Steel's Gary works, were purchased and construction started in late 1962. Probably few could have imagined that Burns Harbor would be the last integrated mill in the U.S. to be built until today.
In 1964 the 160 " plate mill was started followed in 1966 by the 80" hot strip mill. In between 1969 and 1972 two blast furnaces, a coke plant (164 coke ovens) and a steel mill, containing two 300 ton BOF vessels were started.In 1975 Bethlehem Steel's first continuous slab caster started production. In 1978 a 110" plate mill and a third BOF vessel became operational.In 2000 the last ingots were poured.
After filing bankruptcy Bethlehem Steel was taken over by the International Steel Group (ISG) in 2003. Two years later Burns Harbor became part of Mittal Steel USA (ArcelorMittal since 2007).
Further images.

   1:  Blast furnace C
2:  Blast Furnace D
3:  Ore storage
4:  Coal Storage
5:  Coke plant
6:  Sinter plant
7:  BOF shop
8:  Slab caster 1
9:  Slab caster 2
10: 80″ hot strip mill
11: 160″ plate mill
12: 110″ plate mill
13: Cold rolling mill