Yesterday the last seamless tubes were rolled at ESW in Eschweiler. This marks the end of the history of the former EBV-Hüttenbetriebe, the now largely forgotten steel subsidiary of Eschweiler Bergwerksverein.
The plant in Eschweiler, Germany was founded in 1914 by the Eschweiler-Ratinger Maschinenbauaktiengesellschaft (ERMAG). In 1917 an open hearth shop was added to ensure the steel supply.
In 1924 the plant was taken over by the Eschweiler Bergwerksverein, a mining company mostly owned by ARBED from Luxemburg.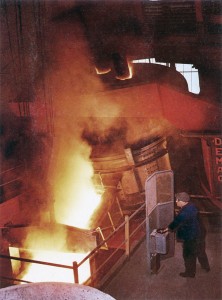 Pig iron was now supplied by the nearby EBV blast furnaces (Concordiahütte). In 1957 a new 30 t electric arc melt shop was built on ground of the now dismantled blast furnace site which had been closed down in 1941.
Two pilger rolling mills were commissioned in 1953 and 1961.
Since, due to the unfavourable transport situation, it did not make sense to produce mass-produced steels in competition with the Ruhr area, EBV-Hüttenbetriebe now specialised in the production of high-quality steels.
In 1965 a continuous caster and a second EAF where added. A new innovative planetary tube rolling mill (PSW) gradually replaced the outdated pilger rolling mills in 1976.
In 1984 the site was sold to the Maxhütte steel company from Bavaria.The EAF melt shop was closed in 1986 and one year later the Maxhütte went bancrupt. In order to save the new tube rolling mill the former plant manager, among others, took the mill over in 1987.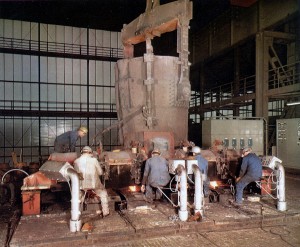 ESW-Röhrenwerke produced seamless steel tubes for the oil and gas industry,  boilers and engineering.
The last owner, Danieli from Italy, took over in 2016.
Further images.