Probably the last chance, after the demolition of the LD steel plant of Henrichshütte in Hattingen, to preserve a converter steel plant in Germany is wasted.
The OBM (Oxygen-Bodenblasen-Maxhütte) melt shop in Sulzbach-Rosenberg, built in 1974, with it's three bottom blowing 65 t converters and the 1200 t hot metal mixer is under demoltion and will soon be gone:
VIDEO Bayrischer Rundfunk.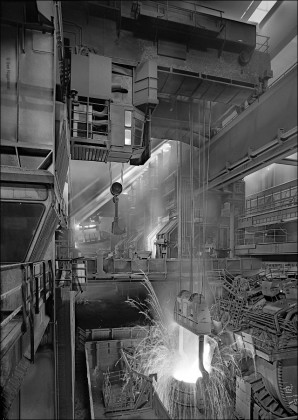 Ten years ago, in September 2002, the Maxhütte in Sulzbach Rosenberg, Germany was closed for good. It was Bavaria's last integrated steel mill and dates back to the Eisenwerk-Gesellschaft Maximilianshütte founded in 1853.
The image shows the OBM  (Oxygen Bodenblasen Maxhütte) melt shop that was installed in 1970. See also.