The Nirosta Krefeld melt shop was closed on Friday, 6th of December  after more than 110 years of steel making.
I had the chance for a last visit three weeks before.
Now at my website.
The steel mill in Krefeld, Germany was established in 1900 by Carl Spaeter, Peter Klöckner and August Thyssen under the name Krefelder Stahlwerk AG. Open hearth steel production started in 1901. In 1907 three rolling mills were installed. In 1911 a tube mill was added. A forging press went into production in 1917.
In 1927 the Krefeld mill became part of the speciality steel group Deutsche Edelstahlwerke AG out of Bochum, Germany.
The first electric arc furnace was installed in 1930.
The new melt shop number 3 including two 70 ton electric arc furnaces was built by DEMAG in 1952.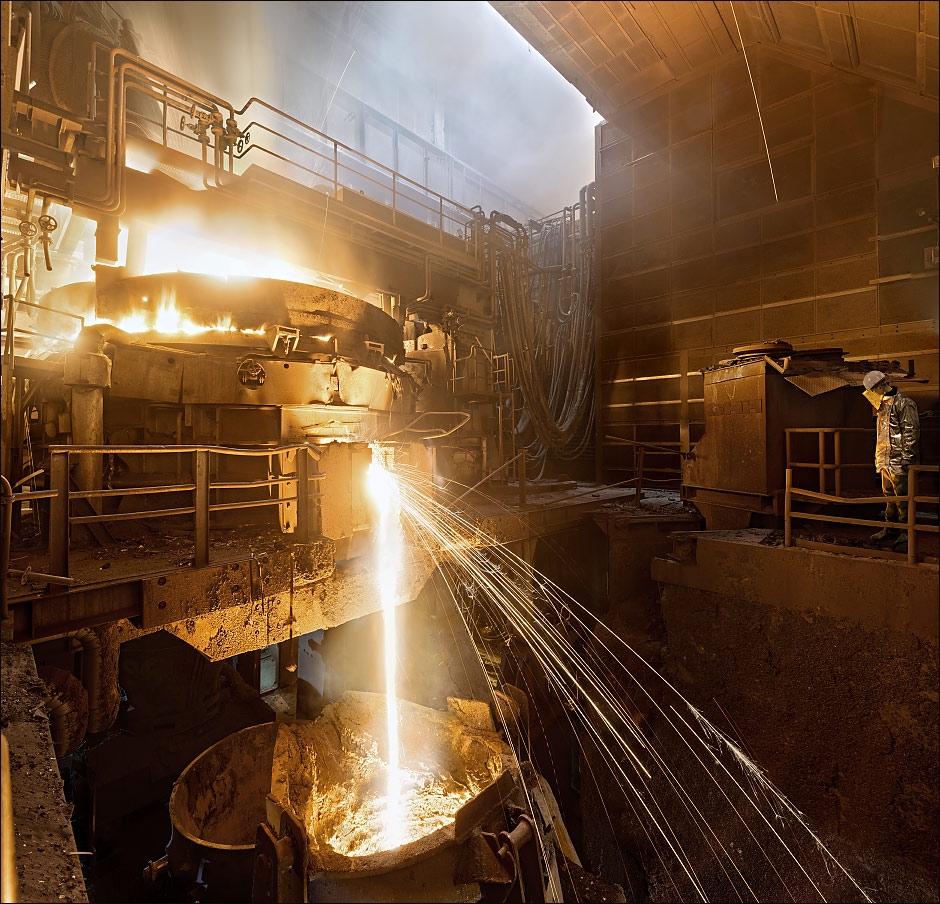 A new wire mill started rolling in 1963.Open hearth steel making ceased in 1970.The year 1971 saw the complete takeover by the August Thyssen Hütte AG from Duisburg.
The new name from 1974 on was Thyssen Edelstahlwerke AG the Krefeld mill was merged now with Edelstahlwerk Witten AG.
In 1977 the first of two 80 ton AOD-converters was installed by the GHH company.Two rolling mills were closed in 1982.
In 1985 one electric arc furnace was modernised and the other one closed down. In 1989 the old melt shop NO 1 (30 ton furnace) was closed.The wire mill was shut down in 1993.
A new name in 1994: Edelstahlwerke Witten-Krefeld GmbH.
Krefeld merged with Krupp's Bochum based stainless steel mill to form Krupp Thyssen Nirosta GmbH in 1995.
All forging activities in Krefeld came to EWK (now Deutsche Edelstahlwerke). A strip caster was installed in 2001.
VAI Siemens installed two new 80 ton AOD-converters in 2009.
The Finnish Outokumpu group takes over the Nirosta mills (now called Inoxum) in 2012.