The invention of the continuous hot strip mill in the USA in the 1920s (at Armco, Ashland) was one of the key innovations in the steel industry. Similar to the introduction of the Bessemer or Mannesmann processes, it not only brought cost advantages for steel producers but also opened up completely new markets. Nevertheless, this technology still is not known to most people.
With the traditional, non-continuous, processes for sheet metal production, mass motorization of the population in the industrialized countries would never have been possible.
Whereas in the US in 1940 there were already 28 wide strip mills in operation, in Europe there were only 4, all of which were built with American help, except for the plant in Dinslaken, Germany.
The great era of hot strip mills in Europe only started after the war and especially in the 1960s with the motorization of the working class.
A technology transfer promoted by the US government began because European rolling mill engineers did not have the necessary know-how to build these huge, complex plants on their own.  Until the late 1960s they therefore usually cooperated with American companies such as United, Mesta or Blaw Knox.
The new rolling mills changed the appearance of the iron and steel works forever. The August-Thyssen-Hütte, one of the largest steel mills in Europe, produced 1.55 million tons of crude steel in 1955. A modern hot strip mill consumes up to 5.5 million tons of steel per year. Larger blast furnaces, more efficient steelworks and new types of continuous casting plants had to be installed to satisfy the steel hunger of the new hot strip mills. This led to the consolidation of both steel production sites and their operating companies.
Apart from their economic and social importance, hot strip mills are simply evidence of brilliant engineering and are also very photogenic.
I would therefore like to present in a small series some of the important hot strip mills in Europe.
Further reading:
Ribbon of Fire – How E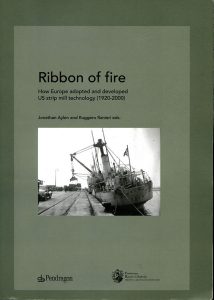 urope adopted and developed US strip mill technology (1920-2000) edited by J Aylen & Ruggaro Ranieri Published by Pendragon ISBN 978-8865982389
USINOR, Denain.
It was in Denain that the new company Usinor, resulting from the merger of the Société des forges et aciéries du Nord et de l'Est and the Société de Denain-Anzin, decided to install a continuous wide-strip rolling mill, the first in France and postwar Europe, commissioned in 1951.
The 66" (1,676 mm) fully continuous mill had 4 roughing and 6 finishing stands. It was built by  United Engineering from Pittsburgh, Pa. .
The electrical equipment came from the Westinghouse company.
The  subsequent 3-stand cold rolling mill was installed 140 km away in Montataire near a Renault assembly plant.
Soon Usinor's steel capacity became a bottleneck so in 1955 a new blast furnace (No.5) had to be built.
In 1978 Denain underwent a restructuring plan which led to the phasing out of its steel production. In July 1980, the last blast furnace was shut down. The hot strip mill continued to operate until March 1985. Afterwards only the Ateliers de Denain, specialising in the repair of wagons remained on the site.
The workforce at the Denain mills fell from 10,000 employees in 1966 to 6,300 in 1979, and then to less than 200 when the Denain plant was finally closed in 1988.